My Website Doesn't Perform
If you've got a clinic business and your website isn't bringing you new clients or enquires, then your website is not doing what it was designed to do! Perhaps from your stats, you can tell you're getting plenty of visitors to your website, but they're not getting in touch with you. Or your stats say you're not getting any website traffic at all? Maybe you're not sure how to look at the stats to identify what's going wrong?
There are a number of reasons why your website might not be working. It could be the website design, the content, the relevancy of that content, or the fact your website is not optimized. This means it's not appearing in Google search.
The point of a website is to reflect your business and generate new business for you. We've outlined some common website issues below to help you perform your own audit, identify the potential problems you're having, and potentially fix them.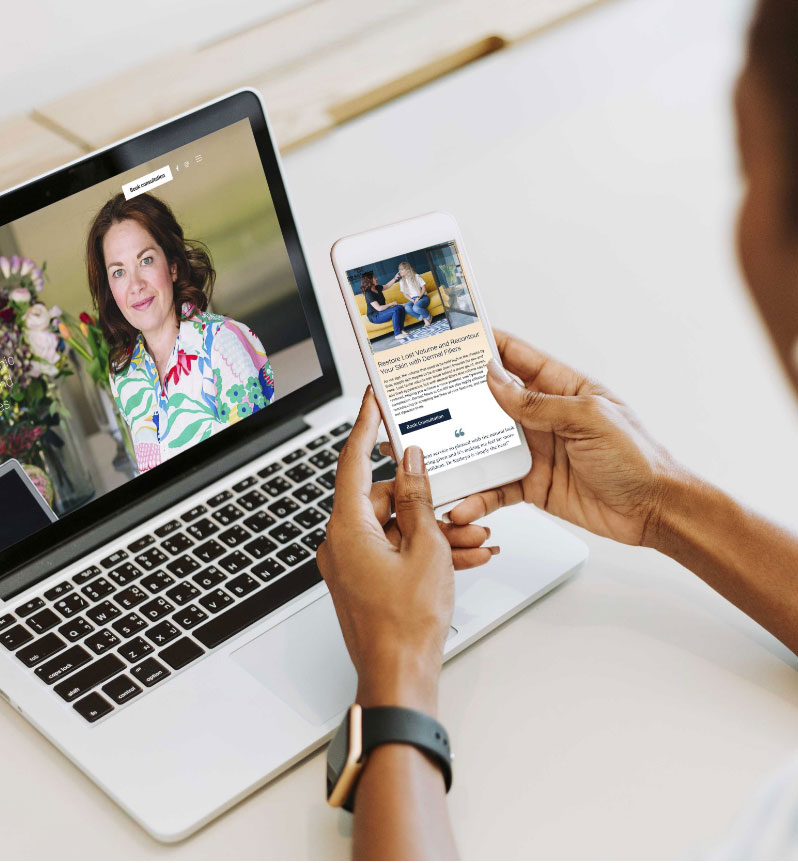 Are you getting website traffic but finding that a lot of people are leaving straight away? This is often due to a couple of reasons.
The average traffic a small website can expect without any digital marketing at all, is between 500 and 1000 visitors a month. Digital marketing can then double, triple, or even quadruple these numbers, especially when using paid ads. These are the sorts of figures you should be hitting if you have an active website and an effective digital marketing campaign. The more visitors to your website you have, the more enquiries you should be getting. These enquiries should then be turning into new clients.
The first step in improving your site performance is identifying the site problems you're having. Providing you have this installed you can do this using Google analytics. Google Analytics gives you a whole range and scope of information. It'll tell you the number of people landing on your site, how often they visit your site, how long they stay on your site, as well as the type of device they're using to find your site. This information is invaluable. Once you have an idea of how your website visitors behave on your site, you'll be in a better position to analyse in more detail what's failing to make them get in touch with you.
Common causes of poor website performance
Slow loading speed: A huge turn off for website visitors is a slow loading speed. The load speed is the time it takes a website to download onto a browser. It usually results in a high bounce rate (visitors leaving the website straight away.) If its slowness is due to large images, try to reduce their size without compromising on their quality.
Plugin problems: If you've got a website with lots of different features operating throughout the website, these are commonly referred to as plugins. Plugins are, in essence, additional pieces of code that the website has to process. They need to be kept up to date. Consider the cost of a new website vs updating your existing website.
It's worth making sure your website looks good on mobiles. In London and other major cities, websites are most commonly viewed on phones. If your website isn't optimised on mobiles, you could be losing new clients as a result. Viewers might not be able to press buttons, be struggling with pop-ups, or not getting the information they need clearly and quickly.
Website content problems
Are you getting website traffic but finding that a lot of people are leaving straight away? This is often due to a couple of reasons. The first is that your website isn't sticky enough. It's not taking them on a journey, or giving them anything of interest to look at, read, or click through. So they're not staying on the site.
The second reason might be that ultimately your website isn't as relevant as it should be. Paid ads might be bringing traffic to your website, but when that traffic reaches its destination, visitors aren't finding that the landing page is of interest or trust worthy enough to them.
Could it be that your website isn't personalized enough? Are website visitors finding your stale stock images generic, and too similar to those provided by other clinics? Having images that are personal to you, your team, and your business will separate your website from the competition. It will enable you to stand out as different and also give visitors to your website an insight into the experience they'll have at your clinic.
Words can feel just as dated and lacklustre as stale images on your website, particularly if the information is too general. Being creative in your written content will give you a USP, and make you more memorable. Why not give viewers an idea of what happens during your consultations and your processes. Let them know the sort of patient questionnaire they'll need to fill out, as well as your unique combination of treatments.
Website optimized incorrectly
Website optimization involves making changes to your website content to improve its performance, and conversion rates. It involves analyzing your website's data, such as page speed, navigation, and content. By optimizing your website, you can increase your search engine rankings, attract more traffic, and ultimately, convert more visitors into clients.
Getting good results requires technical skills and expertise, and is essential for any clinic that wants to grow. With the right approach and software, you can optimize your website for maximum performance and achieve your digital marketing goals.
If you're wondering whether your website is properly optimized for Google search, there are several things you can do to check. Firstly, you can use Google's own tools such as Google Analytics and Google Search Console to get insights into how your website is performing in search results. These tools can help you identify any technical issues that may be preventing your website from ranking higher.
Another important aspect of optimizing your website for Google search is ensuring that your content is relevant to their search. By relevant, we mean people arrive at your website with expectations of what they'll see, and those expectations are met. This means using keywords naturally throughout your website, as well as creating informative and valuable content that appeals to your target audience.
Most common non-marketing reasons why website traffic isn't converting into customers
Demand – There's not enough demand for services among the demographic you're targeting or time of year
Price – Your prices are too high, compared to those of your competitors for some treatments clients shop on price or more choice in general.
Competition – Your competitors are more appealing, with a more effective digital marketing strategy
Trust – Visitors to your website do not trust the services you're offering; perhaps because your reviews aren't obvious, you're not coming across as an authority in your industry, or because your website has issues.
Top Tips for improving your website performance and getting more new enquiries from it
Ensuring your website is mobile-friendly and has a fast load time can also positively impact your website's ranking in search results. This means it's more likely to rank higher in Google search results for relevant keywords.
When looking at your website and trying to understand why it perhaps isn't performing for you, try and separate what you're doing in terms of the design of the site, the content that's on the site, and the performance of the site. This will help you identify quick wins that you can achieve straight away.
If you have Google Analytics on your website look at the numbers over a longer time period to get a good idea of average results. Using this information, especially data applied to mobile devices and the source of traffic, will help steer you in the right direction.
Out of date plugins will indicate to your website visitors, and Google, that your business is not organised enough to be on top of its technical issues. This doesn't reflect well on your brand.
FAQs
What happens is my website content isn't relevant?

Traffic may arrive at your website, but it won't stay, and you're unlikely to get enquiries from it. Increasing your bounce rate and reducing your page score.

Why aren't my ads working?

If your website isn't converting visitors into clients, check your website demonstrates your authority and professionalism in your field. Reviews, before and after images, as well as plenty of information, will help build online trust in your products and services. Also check there is demand in your area, and that your prices are in line with your competitors' prices.

How can I make my website stand out?

Don't forget to personalize your website as much as you can, to set yourself apart from your competitors. Include content that describes how you carry out your services and also more importantly the images used throughout the website. A photoshoot to create a series of images that are personalized to you and your clinic will give you a desirable edge over your industry rivals.

Do I need to improve my website or my marketing?

Consider how much traffic is actually coming to your website in the first place. It might be that the website is actually good, but you're not getting enough traffic in order to hit the numbers you're looking for, in which case the answer may be the digital marketing strategy rather than a brand new website or major website updates.

Is my website beyond repair?

You may need a new website if you're struggling to improve the performance of your current website. Speak to your web designer about the cost of a new site. More often than not, the cost of updates, if there are a lot of them, can be significant; often more than 50% of the cost of a new website.

If this is the case do seriously consider having a new website, with the possibility of spreading the cost out to make it more affordable. This will not just mean that you get to carry out the updates you want as part of the new site, but it also means your code is more likely to be more up-to-date. The plugins will all be up to date. And you may also get additional extras included.
For a better understanding of why your website might not be performing as well as it should, take a look at the following articles.
Looking to improve your websites performance?
Call or schedule a free consultation with our team
Do you work with other businesses?

Since 2005 we have worked closely with the dental, aesthetics, and healthcare industries, developing specialist knowledge, and a reputation as a marketing thought leader in these sectors. However, as our team of website designers and marketing experts have such a wealth and diversity of experience in different industries, we can confidently deliver website and digital marketing packages within your chosen sector. Our transferable skills combined with additional exploration of exactly how your business operates, and what you want to achieve, will ensure you get the best possible performance from any package you purchase from us.

To give you an idea of some of our recent projects from multiple recent sectors we've worked with, please visit this section in our portfolio. Get in touch with our team to find out more about the sort of results we can achieve for your business.

Do you cater for small businesses?

Yes, we work very closely with small businesses and understand not only the challenges they face, but also how to get the best results from their marketing strategy. Most of our clients are small to medium size businesses. Many are start-ups, but even more are established businesses, that we have watched grow from a small budget. Building and maintaining a good working relationship with our clients from the beginning is a priority for us. It allows us to better understand the nuances of their business goals. We regularly watch small initial business goals grow in size and ambition, once a company's digital marketing strategy starts taking effect.

We even offer a package that is designed specifically for small businesses. It's a customised service that ensures we offer you support tailored to your individual requirements. We'll help you navigate around the common pitfalls that so many small businesses face and save you money in the process. Your aim should be to achieve your business goals as quickly and cheaply as possible. It's our job to make sure that happens.

Do you provide branding and other services?

Yes, we offer a full range of design and marketing services all under one roof. We have branding and graphic design experts in our team to help you with your digital presence, as well as manage your offline print marketing. From leaflets to signage, our team can take care of all your marketing needs from the beginning of your campaign to the end, as well as help you manage your launch. For more information about our services and an informal chat about what you're looking for, please arrange a consultation with our team today.

Why choose Cosmetic Digital?

At Cosmetic Digital we focus primarily on two fundamental areas. These are creativity and ideas, and results-focused digital marketing. We are transparent about our processes and work closely with our clients to grow their businesses quickly, and on budget. Be wary of digital agencies who are happy to take your money, without being clear about about what they can achieve, and how.

Thanks to decades-long experience our team has an inside edge on what digital marketing platforms are best for the services you wish to focus on. Our team are able to develop an effective, bespoke marketing strategy for your business based on your budget, timeframe, location, and customer demographics. A lot of our clients are in the dentistry, aesthetics, and healthcare sectors and want to work with someone who has a lot of experience and knowledge within these industries. They come to us because of our specialist reputation. However, just because we have achieved a specialism, it doesn't mean we're not working daily on helping businesses from all sectors increase their sales and improve their online presence. Get in touch to talk about how substantially we've helped businesses similar to yours achieve great results in recent years.
---