Marketing Not Working
In today's market, having an evidence-backed and creative, digital marketing strategy is essential for any clinic to succeed. However, sometimes even the most carefully planned strategy can fail to produce the desired results.
As pioneers in clinic digital marketing, we have seen firsthand the most common reasons why digital marketing strategies don't work. Here we outline some actionable tips to help you avoid making these mistakes.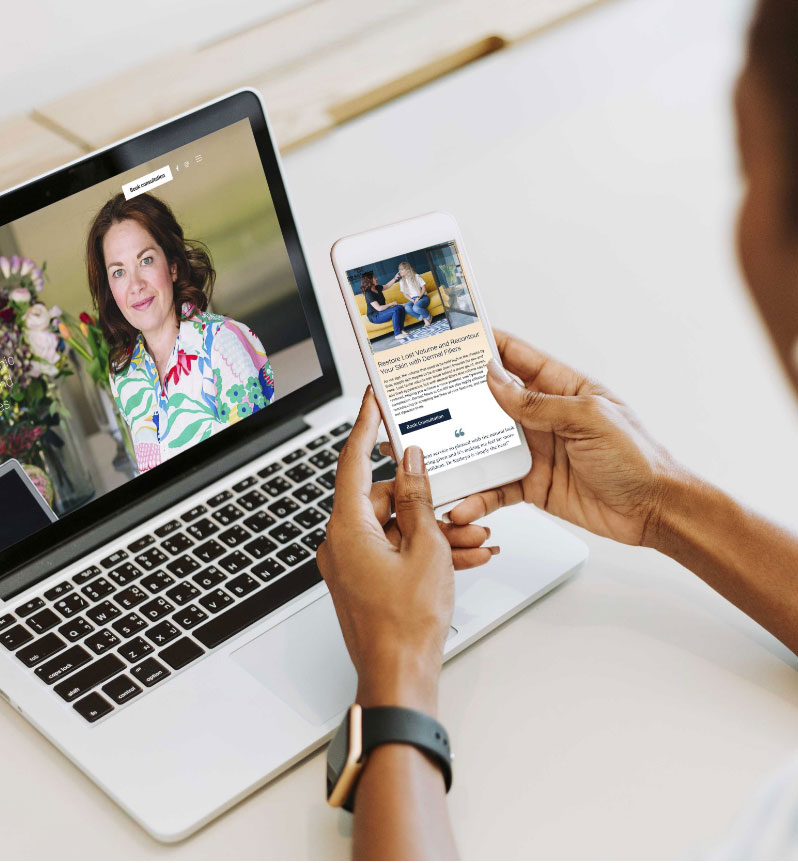 Expensive treatments, that have the highest margin of profit, are likely to be in higher competition than others.
Marketing takes time to work, even if it's applied effectively.
Could you be making a marketing optimisation error that is harming your SEO efforts? The first thing we check when we talk to clients about their marketing strategies is what they have and haven't done. For instance, out-of-date marketing practices (e.g. keyword, stuffing) will do you more harm than good.
It's also important to remember that a tailored digital marketing plan takes time to work. A common error is giving up too quickly. Sometimes you can carry out your digital marketing on a particular platform, and for some reason, nothing seems to be working. Instead of looking into the details surrounding why your efforts haven't worked, you might be tempted to rule out using that platform again. This could be a mistake.
Always consider that you may need to be patient before abandoning a campaign. Before you quit, check that the price is right for your location and that the treatments you're promoting are in demand at the moment. It's worth bearing in mind that certain treatments sold at the wrong time will give you a highly inaccurate, overview of how effective a particular platform may be.
Putting your adverts in the wrong place
Different treatments work best on different platforms. Understanding the marketing Goldilocks zone is one of the reasons why a marketing expert is essential. They will not only ensure that you're promoting the right treatments on the right platforms to get the best results, but also that enough of your marketing budget is allocated to the platform that needs it most to achieve maximum results.
Not allocating your advertising budget efficiently
Expensive treatments, that have the highest margin of profit, are likely to be in higher competition than others. This means there will be more clinics competing against you for the same treatments. Be prepared to pay more to market these. Google ads is one of the most expensive digital marketing platforms, but you also get more value for money. Through Google ads, you can reach people in your area who are actively looking for the services and treatments you provide. Social media ads might reach the right audience but it's pure luck whether or not they're looking to buy right now.
Website content that is harming your marketing efforts
You may have a fantastic marketing strategy, that is creating plenty of website traffic for you. However, if that website traffic isn't turning into new clients, it could be because they're unimpressed by your website content.
When somebody clicks on an ad, it will take them to a page on your website. This page is known as the landing page for that ad. The landing page is providing unsatisfactory information about that treatment, the people who have visited your website will simply leave. When website traffic leaves your website immediately, you have what is known as a high bounce rate. Make sure you have implemented the following on your landing pages to reduce your bounce rate:
Information about the advertised treatment.
Pictures administering the treatment
Reviews of the treatment.
Before and after images of the treatment.
Next steps in booking that treatment.
Understanding costs versus results in digital marketing
Everything you do in digital marketing should be calculated in terms of cost per enquiry. (How much have you paid to get website visitors for an enquiry to have occurred.) And cost per conversion. (How much has it cost for each converted new client to get a sale.)
Understanding how to calculate this is really helpful because it will show you which platform is getting you the most conversions for the best price and if it's profitable.
Most common reasons for website traffic not buying from you
If you are getting enquiries, but the quality of those enquiries isn't very good, or the number is very low you may have issues with the following:
Your prices – They're off-putting if they're a lot higher than your competitors, but also if they're too low, as that indicates a quality issue.
Not enough demand – Are you promoting the wrong treatments, do you need to change your treatments strategy
Too much competition – Do some market research and get an understanding of what the other clinics in your area are promoting. If you can't compete with them financially – offer them something different.
No authority – Make sure you display your reviews, training, and before and after photos.
FAQs
Which platforms should I use in my digital marketing strategy?

Make sure you try different digital marketing platforms, for different treatments, in your location. And remember – what works for one clinic doesn't necessarily work for another. Through experimentation with marketing different treatments on different platforms, you should ultimately be able to find out where you can get the most sales for the cheapest marketing price.

It's also worth considering that not everybody has social media, so to reach a full range of clients you may also need to experiment with Google ads. They'll cost more, but they should help you get better results as they target new clients looking at the time.

How can I get more sales from my website?

Look at the quality of your landing pages and website to ensure that there's enough information about the treatments you offer. Additionally, ensure you're prominently displaying trust content such as reviews, personalized content that shows off your USP, and images of yourself. All these things help conversions and bring more leads.

How do I measure the performance of my marketing strategy?

Work out the cost of each enquiry, as well as the cost per conversion. Both of these metrics will guide you in identifying the best digital marketing platforms for each treatment you want to promote.

How will paying a marketing expert save me money?

It really helps to work with an expert, as they'll get you on the right track quickly, and identify common mistakes you may be making. Mistakes can be very costly both in time and in money. If you're in any doubt at all as to whether or not you should set aside some budget for marketing help, ask yourself what's more important to you – cost or results?
For a better understanding of why your digital marketing might not be performing as well as it should, take a look at the following articles.
Do you work with other businesses?

Since 2005 we have worked closely with the dental, aesthetics, and healthcare industries, developing specialist knowledge, and a reputation as a marketing thought leader in these sectors. However, as our team of website designers and marketing experts have such a wealth and diversity of experience in different industries, we can confidently deliver website and digital marketing packages within your chosen sector. Our transferable skills combined with additional exploration of exactly how your business operates, and what you want to achieve, will ensure you get the best possible performance from any package you purchase from us.

To give you an idea of some of our recent projects from multiple recent sectors we've worked with, please visit this section in our portfolio. Get in touch with our team to find out more about the sort of results we can achieve for your business.

Do you cater for small businesses?

Yes, we work very closely with small businesses and understand not only the challenges they face, but also how to get the best results from their marketing strategy. Most of our clients are small to medium size businesses. Many are start-ups, but even more are established businesses, that we have watched grow from a small budget. Building and maintaining a good working relationship with our clients from the beginning is a priority for us. It allows us to better understand the nuances of their business goals. We regularly watch small initial business goals grow in size and ambition, once a company's digital marketing strategy starts taking effect.

We even offer a package that is designed specifically for small businesses. It's a customised service that ensures we offer you support tailored to your individual requirements. We'll help you navigate around the common pitfalls that so many small businesses face and save you money in the process. Your aim should be to achieve your business goals as quickly and cheaply as possible. It's our job to make sure that happens.

Do you provide branding and other services?

Yes, we offer a full range of design and marketing services all under one roof. We have branding and graphic design experts in our team to help you with your digital presence, as well as manage your offline print marketing. From leaflets to signage, our team can take care of all your marketing needs from the beginning of your campaign to the end, as well as help you manage your launch. For more information about our services and an informal chat about what you're looking for, please arrange a consultation with our team today.

Why choose Cosmetic Digital?

At Cosmetic Digital we focus primarily on two fundamental areas. These are creativity and ideas, and results-focused digital marketing. We are transparent about our processes and work closely with our clients to grow their businesses quickly, and on budget. Be wary of digital agencies who are happy to take your money, without being clear about about what they can achieve, and how.

Thanks to decades-long experience our team has an inside edge on what digital marketing platforms are best for the services you wish to focus on. Our team are able to develop an effective, bespoke marketing strategy for your business based on your budget, timeframe, location, and customer demographics. A lot of our clients are in the dentistry, aesthetics, and healthcare sectors and want to work with someone who has a lot of experience and knowledge within these industries. They come to us because of our specialist reputation. However, just because we have achieved a specialism, it doesn't mean we're not working daily on helping businesses from all sectors increase their sales and improve their online presence. Get in touch to talk about how substantially we've helped businesses similar to yours achieve great results in recent years.
---