Goals &
Strategy

Audience &
Platforms

Create Content
& Campaigns

Launch
& Track

Review
& Results
Ad Management
According to Hootsuite, 26% of users who click on Facebook ads end up buying the advertised product or service – a compelling demonstration of how integral social media ads have become when it comes to business growth.
We manage your Aesthetic Social Media Ad campaigns through advanced tracking technology, targeting the audiences we know generate the best quality leads for specific treatment campaigns. We are nimble, measuring audience responses using unique industry insight and making campaign changes to maximise your click-through rates and conversion ROI.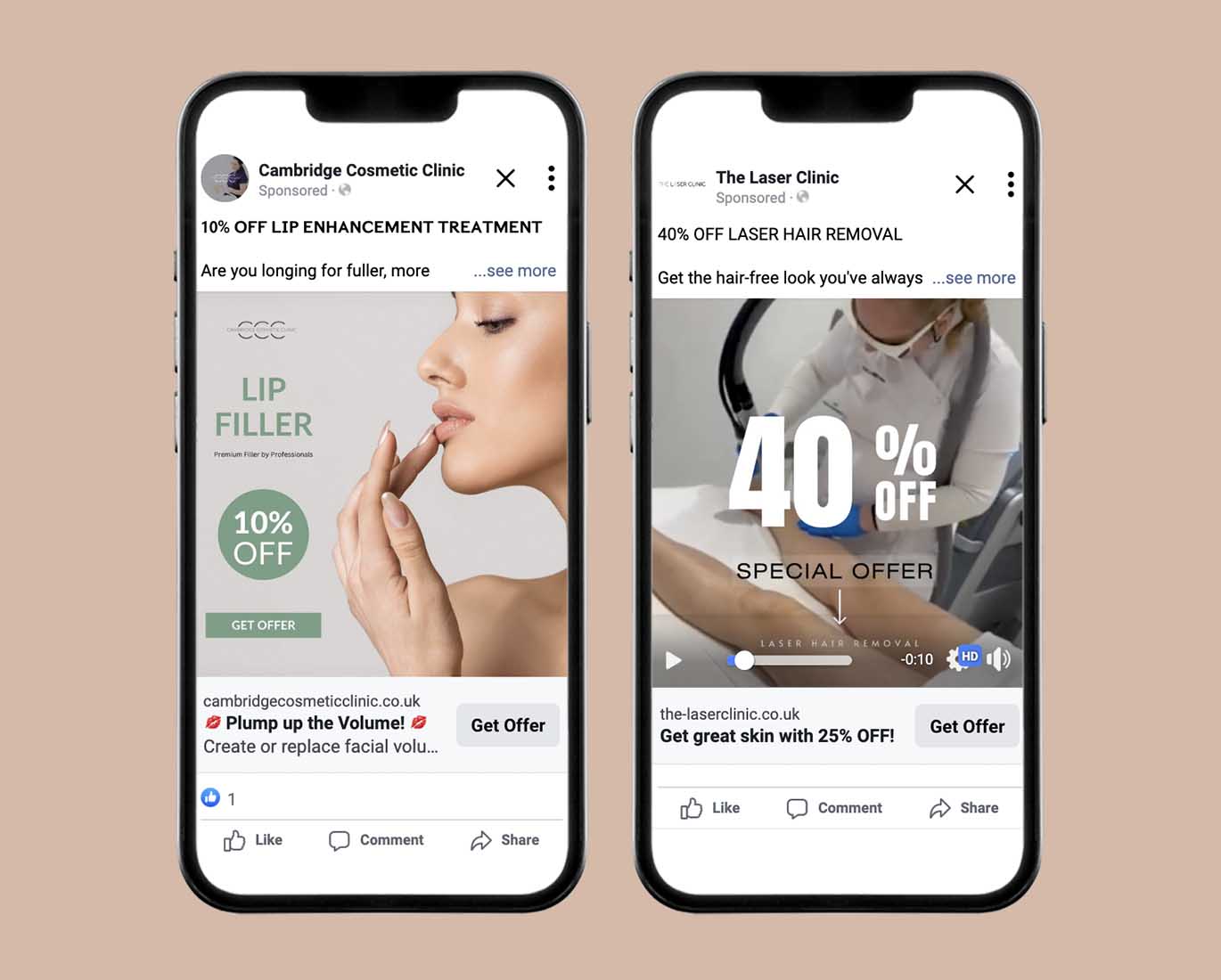 Ad Results
Ultimately, the success of a Social Media Ad campaign is measured in results. No excuses – that's what we care about and what we work diligently to produce. The spend is justified by increased income – end of story.
Our social team are results-focussed on every platform we work with. Time of year, time of day, using the most current keywords, impressive imagery, and targeting informed by geographic, psychographic, and behavioural data are just some of the factors that we collectively harness to deliver a high ROI.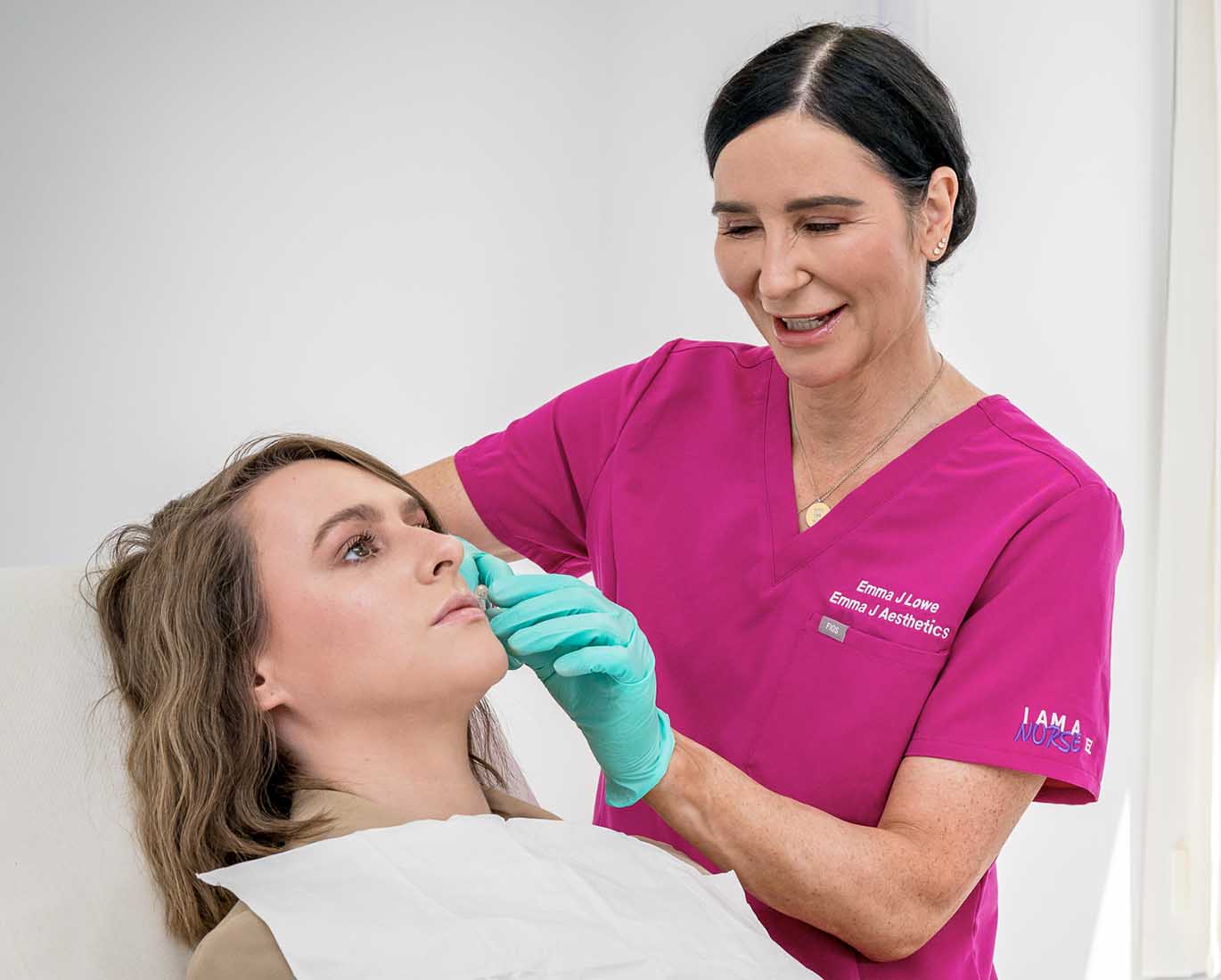 Expertise in Social Media Ads

Creating your strategy

Managing your ads

Increasing your enquiries
Frequently asked questions
How much are they going to cost me?

There are two costs to consider when running social media paid ads for your aesthetic clinic. The first is the cost paid directly to the social platform, whether that's Facebook, Instagram, or LinkedIn, for example, and the second is the cost paid for the management and set-up of those ads. Each platform has its own costs, with Facebook being one of the cheapest and LinkedIn being one of the most expensive. The cheapest ads are currently around £3 a day, but clinics looking to generate a higher volume of clicks and traffic know that they have to choose a much higher cost per day to be effective. Our highly experienced team will guide you on what budget is realistic to achieve the results you're looking for.

How do you work?

Our ads team works closely with each aesthetic client to understand what their business goals are. We start by discussing and agreeing on the right campaign for your clinic, before researching and calculating the most suitable budget, taking into account crucial factors such as location, audience, competitors, the current marketplace, and the time of year. Strategic ads are created on different media platforms and scheduled to be posted at optimal times of day. The team review the success of each campaign, make changes when necessary, and feed back the progress and results to you. With any new campaign there is always a discovery phase, during which we establish the right strategic path, fine-tune the budget, and make creative changes to improve results and reduce the monthly ad spend to ensure the best return on investment for aesthetic clients.

When will I see the results of my aesthetic social media ads?

The time it takes to start seeing results depends on a number of factors including the campaign itself, the time of year, the location, and how competitive the aesthetic marketplace is at that time. Some ads deliver inquiries and generate leads very quickly while others can take several weeks to gain traction. One of the biggest factors that will affect how well your campaign runs and how quickly you see results is your existing audience – people who like your content or are following your profile already, as these are the most likely to become your customers.

Which social media platforms are best for aesthetic clinics?

The right social media platform for your clinic depends on the treatments you wish to sell. Other important factors are the audience you wish to target and the budget you have to invest in your campaign. Our team will discuss these and other considerations with you to ensure the right decisions are made.

Why are my aesthetic social media ads disapproved?

Platforms tend to change policies and procedures as part of their responsibility to protect users, often resulting in the banning of perfectly sound ads. Our 17 years' experience in aesthetic digital marketing enables us to get adverts passed by the platforms' approval teams. If you've tried to set your own campaign up and are having difficulties launching ads, get in touch with our team, who will guide you and make the changes needed to get your ads up and running.

Which is best – paid social ads or paid Google ads?

Many of your clients will be on social media, but many will not, so it's important to consider using Google's paid platforms as well as social media. Even clients who use social media frequently might turn to Google to look for a clinic or for treatments. Social platforms offer benefits such as lower budgets and high levels of targeting, enabling you to build a community around your clinic based on factors like gender, interests, location etc.

Google delivers your treatment ads to the person actively searching for them, resulting in a better quality of new leads and clients. Google's costs are significantly higher because of this. Our team knows which platforms are best for the treatment you wish to advertise and will work closely with you to ensure your strategy is good.

Do you provide landing pages?

Designing and setting up the right campaign is only half the challenge. The other half is what to do with that traffic once you have your audience's attention. Our team designs and creates the right landing page and content in order to achieve the highest possible conversion rate for each campaign. There are a number of options when considering your landing pages – an existing page on your current website, a new page on your existing website, or a temporary landing page away from your website. The advantages and disadvantages of these options vary and will be discussed with you to help you make the right decision for your campaign and clinic.

Should I focus on paid social ads or social media content?

There are advantages to both paid social media ads and organic social media content. Paid social media ads are often used by clinics to generate leads and quickly target new audiences. Social media content has a slower but equally important impact, building knowledge and trust in your clinic's brand, services, and products. Used together, quality social media content and well-designed paid social media ads can be highly effective for both short and long-term gain.
Why Choose Us for Social Media Ads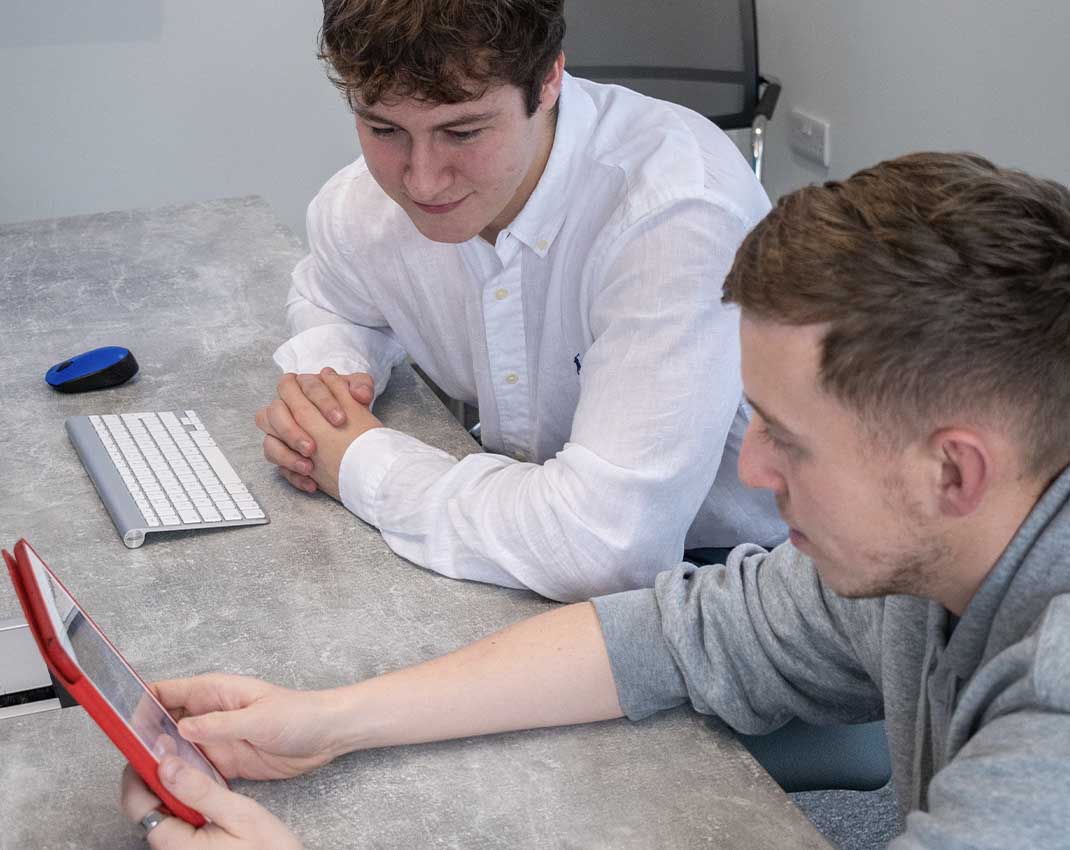 Our team of experts work closely with you to plan, create, analyse and act to maximise the impact your digital marketing has on your business. Every client's digital marketing strategy is unique.
Whether you're a start-up or well-established, we work closely with you to create campaigns that deliver results for your budget and avoid expensive mistakes other marketing companies make that don't have the expertise or experience in your sector.
Knowing which ads work best for your strategy is priceless. The knowledge we have gained over 16 years in your sector provides our team with an unmatched field of expertise in creating the right ads to deliver the best results for your campaigns.
Contact us
Discuss your digital strategy with our aesthetic marketing experts
Do you work with other businesses?

Since 2005 we have worked closely with the dental, aesthetics, and healthcare industries, developing specialist knowledge, and a reputation as a marketing thought leader in these sectors. However, as our team of website designers and marketing experts have such a wealth and diversity of experience in different industries, we can confidently deliver website and digital marketing packages within your chosen sector. Our transferable skills combined with additional exploration of exactly how your business operates, and what you want to achieve, will ensure you get the best possible performance from any package you purchase from us.

To give you an idea of some of our recent projects from multiple recent sectors we've worked with, please visit this section in our portfolio. Get in touch with our team to find out more about the sort of results we can achieve for your business.

Do you cater for small businesses?

Yes, we work very closely with small businesses and understand not only the challenges they face, but also how to get the best results from their marketing strategy. Most of our clients are small to medium size businesses. Many are start-ups, but even more are established businesses, that we have watched grow from a small budget. Building and maintaining a good working relationship with our clients from the beginning is a priority for us. It allows us to better understand the nuances of their business goals. We regularly watch small initial business goals grow in size and ambition, once a company's digital marketing strategy starts taking effect.

We even offer a package that is designed specifically for small businesses. It's a customised service that ensures we offer you support tailored to your individual requirements. We'll help you navigate around the common pitfalls that so many small businesses face and save you money in the process. Your aim should be to achieve your business goals as quickly and cheaply as possible. It's our job to make sure that happens.

Do you provide branding and other services?

Yes, we offer a full range of design and marketing services all under one roof. We have branding and graphic design experts in our team to help you with your digital presence, as well as manage your offline print marketing. From leaflets to signage, our team can take care of all your marketing needs from the beginning of your campaign to the end, as well as help you manage your launch. For more information about our services and an informal chat about what you're looking for, please arrange a consultation with our team today.

Why choose Cosmetic Digital?

At Cosmetic Digital we focus primarily on two fundamental areas. These are creativity and ideas, and results-focused digital marketing. We are transparent about our processes and work closely with our clients to grow their businesses quickly, and on budget. Be wary of digital agencies who are happy to take your money, without being clear about about what they can achieve, and how.

Thanks to decades-long experience our team has an inside edge on what digital marketing platforms are best for the services you wish to focus on. Our team are able to develop an effective, bespoke marketing strategy for your business based on your budget, timeframe, location, and customer demographics. A lot of our clients are in the dentistry, aesthetics, and healthcare sectors and want to work with someone who has a lot of experience and knowledge within these industries. They come to us because of our specialist reputation. However, just because we have achieved a specialism, it doesn't mean we're not working daily on helping businesses from all sectors increase their sales and improve their online presence. Get in touch to talk about how substantially we've helped businesses similar to yours achieve great results in recent years.
---