Starting Out
Let us help you. We've been working with clinic owners for many years and can probably predict the errors you may be about to make.
Presumably you'll have a premises in mind. Or perhaps you're already open for business, but wondering how to get more clients. We're going to show you how to work in a smart way from the beginning and create systems that will lead to a continuing increase in sales from existing clients, as well as a steady stream of new clients.
Digital marketing should be a priority, not an afterthought.
After having invested time and money in getting the premises and equipment ready, new practitioners often then sit back and wonder why nobody's making an appointment to come and see them. It's because they've neglected to do any research or launch marketing. Or because the marketing they have done isn't sufficient. Having brand new practice rooms and expensive equipment is pointless if you don't have any clients.
So let's take a look at what you've done:
Have you created a buzz about your business online before it opened?
Have you covered the opening of your business with appealing images?
Have you introduced your expert team to the world?
Have you advertised the treatments you're offering or new treatments you're going to do?
Do potential clients know what makes you better than your competitors?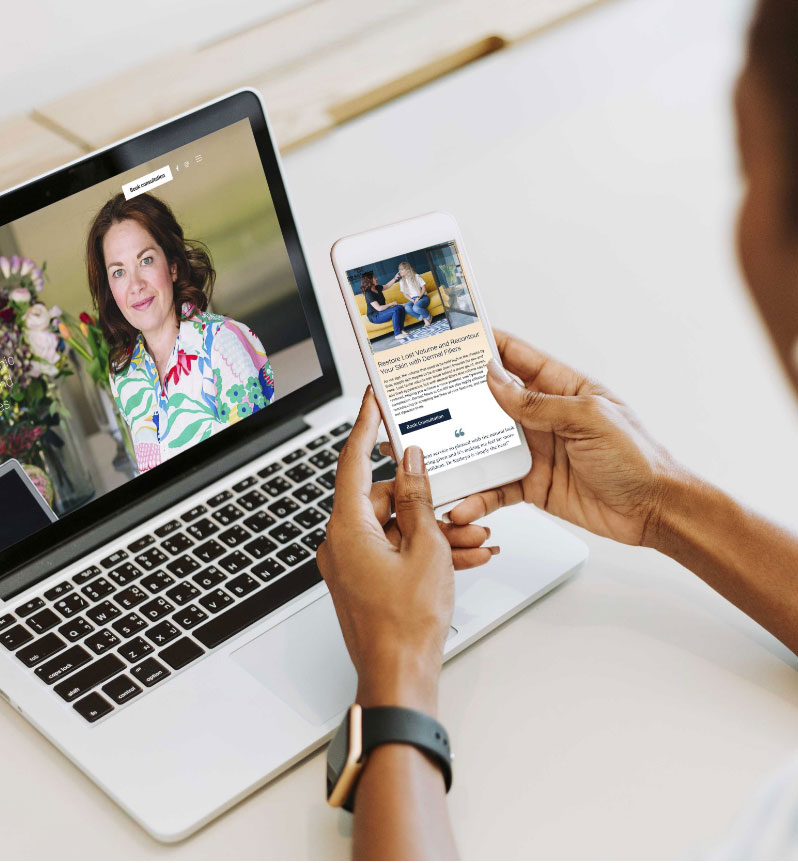 When you're starting out, it's important to work with a marketing expert in your industry. This will help you get your clinic on the right track straight away, but also avoid expensive common mistakes.
Avoid expensive starting out marketing mistakes
Marketing fundamentals are different in each industry, so a general marketing expert will be far less valuable to you than an industry expert, who knows for certain how you can get ahead of local or larger competitors.
Choosing the right digital marketing platform for your treatments and location first time will save you time and money. As will not having to experiment with which adverts are going to work for you. We have worked with many clients just starting out in this industry.
A website that's not fit for purpose
Not everyone who approaches us needs a new website. A lot of the clients we help come to us with an existing website, that isn't working for them. Many of these websites have been put together by the client themselves in a cost effective way. This is totally understandable when you're starting out and your budget is limited. They might have used a do-it-yourself website platform like Wix, Squarespace, or GoDaddy, and although it may look nice, it often lacks the right details to get any interest from website traffic, and rank highly on Google.
Often you've simply missed an opportunity to let your website do its job for you.
If you don't contain these features, this can affect how effective your pages are. Ideally each of your web pages will offer visitors a journey with clickable links. This will encourage them to stay on your website for longer, and in this way boost your Google's search ranking too.
Need help with any of this? We can't stress enough, after having seen the same mistakes made time and time again, how working with an expert will save you more money in your quest to drive more sales and new clients, than not paying for one.
The importance of digital market research
Digital marketing isn't just for helping you get your new clinic business in front of potential clients who are looking for your services. It's also a great tool to test the marketplace where your business is located. It'll help you gauge demand, discover which treatments you should be pushing as a priority, and which treatments should be piggy-backing on the sales of others. Each location has different demands, so ask your marketing expert what your best course of action is for faster growth, and more new clients.
Top tips when starting out
Work with a company that has the experience of what the common mistakes in your sector are. They know what they are and how to avoid them.
Work with your marketing partner to help decide what your top treatments should be and what the demand for these is. Get this information before you buy all your equipment, to ensure you're making the right purchases.
Ask your marketing expert which platforms are a must and which ones can take second place. A limited budget means you may have to make difficult choices.
FAQs
How do I get more new clients?

Work on content that creates trust in your website, and in your marketing content; such as reviews, personal images, and 'before and after' images, treatment options, and FAQs.

How can I get my website to a higher position in Google search?

Work with your website designer or marketing expert to highlight the most important treatment pages of your website. It's worth asking them if you need several pages for a specific treatment to boost your SEO.

How can I find out what has worked well for clinics similar to mine in the past?

Ask your marketing company for examples of clients they have worked with, that are similar clinics or practices to you. Every type of clinic has its own challenges, so why not get a heads up on the sort of specific challenges you may be about to face.

How much money should I spend on advertising and SEO?

This is when a marketing expert becomes very valuable. If you are running social media ad campaigns in a trial and error way, you will no doubt be making mistakes – that are highly avoidable. And potentially money wasted.

For a start, allocate your budget ahead of starting your marketing, but after you have carried out some research. You don't want to run out of money in the middle of a campaign, as the result will be not reaching enough clients when you need them most. Whatever your budget is, you expert can help you use it in the most effective way.

On top of this, your marketing advisor will let you know how much time they'll need each month to manage your marketing. Not investing enough will get you poor results. But great results lead the way to even greater results. Sales and happy clients inevitably lead to more sales and more happy clients. Invest in the future of your business now, to save yourself time, money, and hassle later on.
For a better understanding of how to make your clinic stand out, take a look at the following articles.
Do you work with other businesses?

Since 2005 we have worked closely with the dental, aesthetics, and healthcare industries, developing specialist knowledge, and a reputation as a marketing thought leader in these sectors. However, as our team of website designers and marketing experts have such a wealth and diversity of experience in different industries, we can confidently deliver website and digital marketing packages within your chosen sector. Our transferable skills combined with additional exploration of exactly how your business operates, and what you want to achieve, will ensure you get the best possible performance from any package you purchase from us.

To give you an idea of some of our recent projects from multiple recent sectors we've worked with, please visit this section in our portfolio. Get in touch with our team to find out more about the sort of results we can achieve for your business.

Do you cater for small businesses?

Yes, we work very closely with small businesses and understand not only the challenges they face, but also how to get the best results from their marketing strategy. Most of our clients are small to medium size businesses. Many are start-ups, but even more are established businesses, that we have watched grow from a small budget. Building and maintaining a good working relationship with our clients from the beginning is a priority for us. It allows us to better understand the nuances of their business goals. We regularly watch small initial business goals grow in size and ambition, once a company's digital marketing strategy starts taking effect.

We even offer a package that is designed specifically for small businesses. It's a customised service that ensures we offer you support tailored to your individual requirements. We'll help you navigate around the common pitfalls that so many small businesses face and save you money in the process. Your aim should be to achieve your business goals as quickly and cheaply as possible. It's our job to make sure that happens.

Do you provide branding and other services?

Yes, we offer a full range of design and marketing services all under one roof. We have branding and graphic design experts in our team to help you with your digital presence, as well as manage your offline print marketing. From leaflets to signage, our team can take care of all your marketing needs from the beginning of your campaign to the end, as well as help you manage your launch. For more information about our services and an informal chat about what you're looking for, please arrange a consultation with our team today.

Why choose Cosmetic Digital?

At Cosmetic Digital we focus primarily on two fundamental areas. These are creativity and ideas, and results-focused digital marketing. We are transparent about our processes and work closely with our clients to grow their businesses quickly, and on budget. Be wary of digital agencies who are happy to take your money, without being clear about about what they can achieve, and how.

Thanks to decades-long experience our team has an inside edge on what digital marketing platforms are best for the services you wish to focus on. Our team are able to develop an effective, bespoke marketing strategy for your business based on your budget, timeframe, location, and customer demographics. A lot of our clients are in the dentistry, aesthetics, and healthcare sectors and want to work with someone who has a lot of experience and knowledge within these industries. They come to us because of our specialist reputation. However, just because we have achieved a specialism, it doesn't mean we're not working daily on helping businesses from all sectors increase their sales and improve their online presence. Get in touch to talk about how substantially we've helped businesses similar to yours achieve great results in recent years.
---