On a Budget
In this digital age, it's more important than ever to have a strong online presence for you business. Whether you're running a small clinic, or a group of clinics digital marketing is a crucial component of your growth and success.
However, many clinic business owners opt to do the work themselves or rely on free tools that may not yield the desired results. In reality, paying for digital marketing is essential for any business looking to succeed in today's online landscape, even if you're on a budget.
The highs and lows of marketing budget costs
The biggest cost with any digital marketing is the charges the platforms bill you for advertising. The most cost effective platforms are Facebook and Instagram, because the cost of advertising per day with them is still set at a minimum of £3.
However, given that it's been like this for several years now, and clients in very competitive areas are looking at making gains, you might find that to get really good results, you're looking at £10 plus a day. That may be the amount required to stand out from the crowd and start getting new enquiries.
Google ads, on the other hand, is one of the most expensive platforms out there. It can be up to 30 times more expensive than social media. It does offer great benefits though. Google ads put your business in front of new clients and patients, who are actively looking for your services in a specific location.
Social media ads target people based on specifics such as their gender, age, behaviour, interests and occupation, but these people are not necessarily in the market to buy what you offer.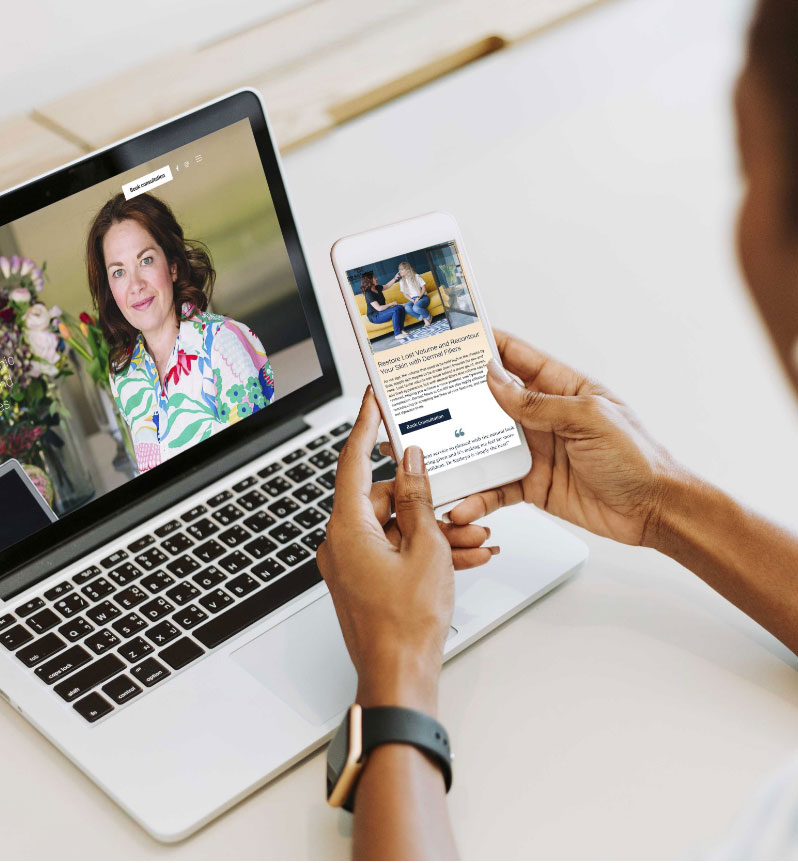 It's better to be an expert on a smaller number of treatments, than overextend yourself with a vast offering.
Allocating your budget more efficiently
A huge mistake small businesses on a budget often make is trying to 'keep up with the Jones's.' Know your financial limitations at any given time, and be aware that your marketing strategy needs to be different from that of the larger, more established clinic in your area – in order to get the best results.
If you don't have the same amount of regular customers as the more established clinics, then you don't have the same spend either. Our advice in this case would be to focus on your own game and your own unique selling points. You can do this by making the treatments you push different to your rival's, rather than taking on the other clinic on a like for like basis.
It's better to be an expert on a smaller number of treatments, than overextend yourself with a vast offering and fail to deliver a quality service because of it. In our experience, if you try to spread whatever marketing budget you've got over too many treatments, your budget is lower and you won't reach the ideal number of potential clients on each platform to deliver a profitable cost per conversion.
If you'd like to become the expert in a particular treatment, have your website reflect that. You can do this through:
Making the majority of your before and afters of your speciality treatment
Heavily feature the reviews of your specialty treatment
Have the slider on your homepage feature your speciality treatment
Base more content around your speciality treatment
Run a heavily target marketing campaign on this/these treatments
Using this strategy, you should have more featured content on your speciality treatment than your competitors. The result of this will naturally be that you will be trusted for this particular treatment. You will be seen as an expert in it. Once you have regular customers for this treatment, you'll be able to promote and educate these clients on other treatments.
Top tips for planning your marketing costs more effectively
Finding out the prices of the digital marketing platforms before choosing which treatments to advertise on them, and also how the digital marketing companies you work with charge for their fees, will help you to plan your costs more effectively.
Track any digital marketing that you do to get an insight into what's working and what isn't. You need to be analysing the data in order to quickly reach the goal of being on the right platform, promoting the right treatments, and doing it for the best price.
If you don't have a huge budget, be careful with how some platforms charge for paid ads. In our own experience we often see the platform spending your allotted budget, but without you getting enquiries as a result. This doesn't mean you need to up your per day spend, but simply allocate the budget more efficiently. Your marketing expert should advise you on this.
Managing your biggest budget costs
Although your biggest cost is likely to be what the platform charges, the other cost you have to bear in mind is the cost of your marketing agency. Marketing agencies work in different ways. Some will charge a percentage of what you're spending. Some charge a flat fee. It's important you understand how your fees are calculated before you go ahead with them.
If you're on a budget, make sure that any digital marketing team you do decide to work with is measuring their success. Tracking results isn't 100% accurate and can be fraught with technical issues, but it is a good strong indicator as to the demand out there for your treatments. Measuring results from as early as possible, will allow you to put the brakes on and change strategy when something's not working. You may need to change platform, or change the treatment you're advertising, without being tied into a long marketing contract.
Top tips for saving money
Being on a smaller budget doesn't necessarily put you at a huge disadvantage. It just means you need to spend more time and be more creative in how you reach new clients. Doing so will enable you to avoid making more mistakes and save you from making potential mistakes.
In order to compete with more established, larger, wealthier clinics in the same location as you, try and position yourself as the expert in fewer treatments. It's better to be well known for one or two treatments.
There are a number of things that clinics can do to separate themselves out from the crowd and still succeed in getting results from their marketing efforts. It just means they need to be a little bit more creative. Investing more of your own time in certain areas, while still employing the help of a marketing expert, can help you achieve great results.
Work closely with your marketing expert to identify what skills they have, so they're doing the expert tasks you need them to do, while you cover the rest.
Email marketing is still respected as one of the most effective forms of reaching your clients. Creating your own content for this is actually more authentic and can result in a better number of new enquiries.
Writing your own blog content is without doubt one of the hardest areas of digital marketing to do and if you've got the time and you're on a budget. this can be a huge saving.
The best organic social media content is authentic, personal, and personalized to reflect of the owner the team.
FAQs
How much of my budget should I allocate to marketing?

Some studies will tell you that a company under 5 years old should be looking at spending 20-25% of their start up budget on marketing, while other studies quote up to 50%. What's important is that you do set money aside to invest in some marketing help. A business without marketing is like running a car without a regular source of fuel. You might get a few lucky miles out of it every so often, but everything is down to chance. You won't be sure what will make it work and what won't, so you'll never leave the experimentation stage. This is the most expensive way to find out what does and doesn't work.

How much should my digital marketing affect my website traffic?

Without digital marketing, a well designed website should get between 500 and 1000 visitors a month. Add digital marketing into the mix and you should be able to at least double the amount of visitors, if not quadruple it.

How much do you charge for your services?

We offer all our clients real value for money and have different prices for different packages. Please get in touch to discuss the marketing help you need, and we'll be able to recommend our best option that's right for you.
For a better understanding of how to stick to a budget, take a look at the following articles.
On a budget and looking to target new clients?
Call or Book a free consultation with our team today.
Do you work with other businesses?

Since 2005 we have worked closely with the dental, aesthetics, and healthcare industries, developing specialist knowledge, and a reputation as a marketing thought leader in these sectors. However, as our team of website designers and marketing experts have such a wealth and diversity of experience in different industries, we can confidently deliver website and digital marketing packages within your chosen sector. Our transferable skills combined with additional exploration of exactly how your business operates, and what you want to achieve, will ensure you get the best possible performance from any package you purchase from us.

To give you an idea of some of our recent projects from multiple recent sectors we've worked with, please visit this section in our portfolio. Get in touch with our team to find out more about the sort of results we can achieve for your business.

Do you cater for small businesses?

Yes, we work very closely with small businesses and understand not only the challenges they face, but also how to get the best results from their marketing strategy. Most of our clients are small to medium size businesses. Many are start-ups, but even more are established businesses, that we have watched grow from a small budget. Building and maintaining a good working relationship with our clients from the beginning is a priority for us. It allows us to better understand the nuances of their business goals. We regularly watch small initial business goals grow in size and ambition, once a company's digital marketing strategy starts taking effect.

We even offer a package that is designed specifically for small businesses. It's a customised service that ensures we offer you support tailored to your individual requirements. We'll help you navigate around the common pitfalls that so many small businesses face and save you money in the process. Your aim should be to achieve your business goals as quickly and cheaply as possible. It's our job to make sure that happens.

Do you provide branding and other services?

Yes, we offer a full range of design and marketing services all under one roof. We have branding and graphic design experts in our team to help you with your digital presence, as well as manage your offline print marketing. From leaflets to signage, our team can take care of all your marketing needs from the beginning of your campaign to the end, as well as help you manage your launch. For more information about our services and an informal chat about what you're looking for, please arrange a consultation with our team today.

Why choose Cosmetic Digital?

At Cosmetic Digital we focus primarily on two fundamental areas. These are creativity and ideas, and results-focused digital marketing. We are transparent about our processes and work closely with our clients to grow their businesses quickly, and on budget. Be wary of digital agencies who are happy to take your money, without being clear about about what they can achieve, and how.

Thanks to decades-long experience our team has an inside edge on what digital marketing platforms are best for the services you wish to focus on. Our team are able to develop an effective, bespoke marketing strategy for your business based on your budget, timeframe, location, and customer demographics. A lot of our clients are in the dentistry, aesthetics, and healthcare sectors and want to work with someone who has a lot of experience and knowledge within these industries. They come to us because of our specialist reputation. However, just because we have achieved a specialism, it doesn't mean we're not working daily on helping businesses from all sectors increase their sales and improve their online presence. Get in touch to talk about how substantially we've helped businesses similar to yours achieve great results in recent years.
---