If you have a bricks and mortar business, such as a clinic, then one of your main marketing goals will be reaching local potential customers. In past blogs, we've looked at how Pay Per Click (PPC) advertising such as Google AdWords and Facebook ads can help you to make your brand visible to a carefully targeted audience; this includes targeting people based on their location.
What you may not know is that there are now even more ways to use Google AdWords to target local customers.
At the last Google Performance Summit in May 2016, the search engine announced that it was beta testing changes to Google AdWords that included the introduction of the "next generation of local search ads."
During the Summit, Google cited some stats that show why it is so focused on improving local searches and enhancing how people looking for a product or service can interact with Google Maps to find a provider on their doorstep:
Over a billion people now use Google Maps
Google guides consumers to 1.5 billion physical destinations every month
84% of consumers carry out local searches
90% of all global sales still happen in stores rather than online
Location-related searches grew 50% faster than mobile searches overall in the past year
A third of mobile searches are related to location
75% of people who search for something nearby using their smartphone will visit a store within 24 hours
28% of those searches result in a purchase
The Local Search ads feature rolled out to Google AdWords' customers in June 2016, bringing with it a range of new PPC options to help you raise your local profile.

What are Google's Local Search ads?
Google Maps already offers tremendous value to your local customers. For example, it can show people your busiest times of the day so that they can plan their visit for a quieter time; it gives star ratings and reviews; and there's even real-time traffic information to help customers plan their journey.
Local Search ads enable you and us to build on this value.
Using the 'location extensions' feature in AdWords (this must be enabled), your Local Search ads can appear within the Google Maps app, on the Google Maps mobile, desktop, and tablet sites, and on Google's Expanded Maps results. This means that you can stand out from your competitors with a highly visible presence on Google Maps at a time when potential customers are on their smartphones and poised to buy.
Here's an example – I entered the search term 'dentists central London' in Google Maps and was taken to the following search results screen: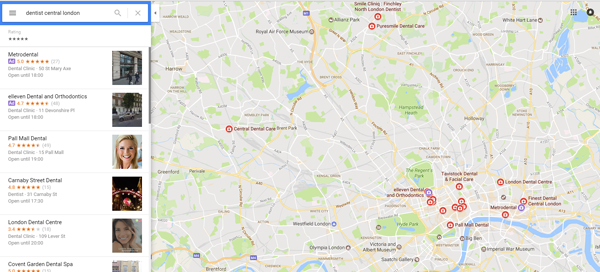 We can see at a glance that the top two listings are Local Search ads because they have the small purple 'Ad' icon next to their star ratings.
Central London is a highly competitive area of the country and these two dentists are more visible simply because they sit at the top of the search results.
If we also look at the map itself, the two businesses running Local Search ads stand out from the sea of red because their location pins are purple. This immediately draws the eye to those businesses.
Google currently allows a maximum of two Local Search ads to appear in Google Maps desktop searches and just one to appear in the Google Maps app.
If you were to run the same 'dentist central london' search in Google, you won't see any ads on the first search results page, but if you click on the 'More places' option at the bottom of the so-called 'local three-pack panel' (circled in red on the screenshot below), you would then be taken to the Extended Maps Results for this search, which would show Local Search ads: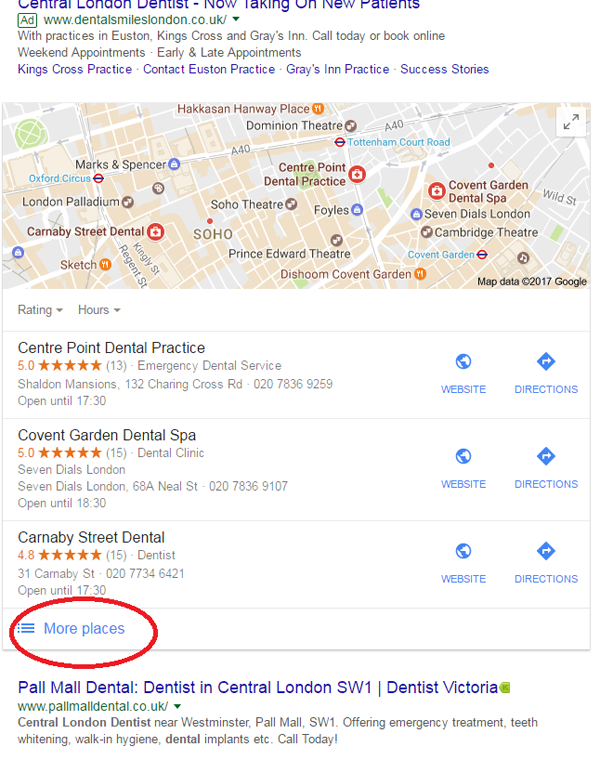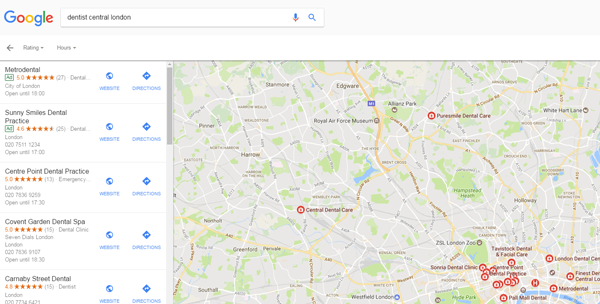 Other Local Search ad formats
Google has also launched some other Local Search ad formats to help you stand out from your local competitors in searches:
Promoted pins (including brand logos)
You're probably already familiar with the usual red pins that appear on Google Maps (see the screen shot above) but Google has now introduced promoted pins that are not only royal purple in colour but can also feature your company logo. This is another way to look distinctive from every other business pinned on the map.
You can now add details of special promotions, such as money-off offers and discounts, which people can see when they click on your Local Search ad for more information.
Further customise your business listing
As above, you will be able to customise the page that searchers click through to from your Local Search ad to include more information about your business, products and services.
Feature a local inventory search
Local inventory ads are currently being rolled out in the UK and are aimed at bricks and mortar businesses that sell products. These ads are targeted at local shoppers who are searching Google for a specific product to let them know whether an item is in stock before they pop into the store.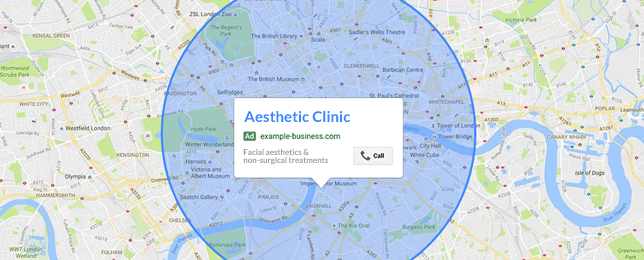 The benefits of using Local Search ads
As Local Search ads have been introduced relatively recently, it's a learning curve for everyone. However, there's a real opportunity at the moment to create more visibility on Google Maps before your competitors catch on. It's worth being aware that Google may continue tweaking its Local Search ad provision for a long time yet but the main features look set to stay and evolve.
If you'e dependent on local footfall, the Local Search ads could give you a chance to really target your advertising to your immediate location or a specific radius. This means you will only be seen by people nearby, which can be a great way to reduce your overall PPC spend. You can even target your ads to appear at certain times of the day if you want to get really specific.
As we've seen above, investing in Local Search ads can help your business to stand out on Google Maps. This may be particularly helpful if several of your competitors are located near you and also have a strong presence on Google Maps.
It's a great time to be an early adopter of Local Search ads. As more businesses learn about this feature and it rolls out more widely, you may find that competition and click costs will increase, and you'll have to work harder to maintain your visibility on Google Maps.
It's early days in this new generation of local search ads but the stats from Google's Performance Summit last year suggest that local search is going to be a big focus for the foreseeable future, and that it's essential for any business that needs to bring people through their door rather than just to their website.
If you would like to find out more about using Google AdWords and/or Local Search ads to grow your business, call us at Cosmetic Digital for a chat on 0115 9140 640.