Local competition is perhaps some of the fiercest, especially when there are multiple businesses in one area vying for the attention of their demographic. Small and independent businesses are the heart and soul of the high-street, but more and more client acquisition is done online rather than through footfall. Facebook Ads, if you'll allow a metaphor, capture the footfall of the scrolling website or app user. Their targeting allows you to target geographic location and detailed demographics.
Let's set up an example case study for Facebook Ads: say we're creating a Facebook Ad campaign for an independent wedding dress shop in the East Midlands with a daily budget of £10.
Detailed Facebook Ads targeting
The detailed targeting of Facebook Ads will help this hypothetical business stand out in their immediate area and in the neighbouring cities that others may commute from. Facebook Ads allow you to really get into the nitty gritty of your audience, and you probably know you can target via gender, age range, and demographic. However, did you know you can divide up who will see your ad even more?
As shown in our dummy Facebook Ad, we've targeted the audience of this ad to be those more likely to enquire or make a purchase with a small business in wedding dresses. We can target by life events (engagements and how recently they were posted) and make it so that Facebook only presents these ads to those who also have 'fashion' listed as an interest. This helps to target the audience to those recently engaged in Nottingham, Derby, and Leicester, that also have an interest in fashion who might be seeking the wedding dress of their dreams, instead of targeting people who are engaged and a different section of people into fashion.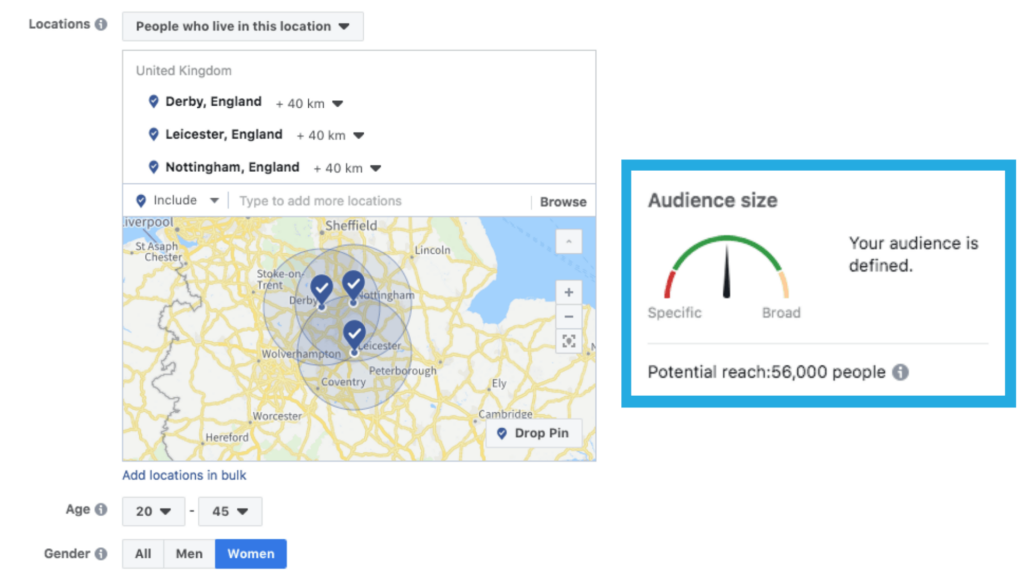 This heightens your chances of better conversions, because the ad is made extremely relevant to its target audience and is therefore is more likely to garner click-throughs to your websites and sales or enquiries. These are also known as goal completions.
Breaking down your demographic
Break down your demographic into exactly who you want to see your ad and who is relevant to your business:
Geographical location
Age
Gender
Interests
Job title
Life events
Relationships
Family connections
Even their Facebook user behaviour
Create this picture in your head or scribble it down on a piece of paper to understand exactly who you are targeting. You can then input this into your Facebook Ad and test how relevant it is to these users.
Boost, or Facebook Ad?
A boosted post and a Facebook ad may seem to do the same thing, but there are fundamental differences between the two.
A boosted post is good for general brand exposure and reputation building. It boosts a single post that you have already created or drafted on your Facebook page, so the caption and the image will be the exact content that shows. This is a great way of showcasing who you are and what you do in flash, but it may not secure conversions and enquiries.
A Facebook Ad, however, is far better for drawing attention to a special offer, specifically marketable service, or even an event. This is because a Facebook ad can be split-tested with another ad, you can create a custom image for each, and you can have a carousel of them to best direct Facebook traffic to your chosen funnel. It also offers a much more detailed breakdown of your marketing efforts, so if you are seeking to launch something or want conversions and bookings, a Facebook Ad is better than a boost.
We offer in-house support for the creation, management, and monitoring of Facebook Ads (and Google PPC, for that matter), so if you're considering upping your Facebook marketing then get in touch today on 01159 140 640.