If you read beauty websites, you aren't necessarily looking for teeth whitening, but you might see an advert for it which catches your attention. Similarly, you might be cruising through your social media accounts to find out what your friends are up to, but not because your gums are sore. Although you might find an advert for periodontic treatment and make an enquiry. Advertising purely on beauty websites and social media means you could be missing out on harnessing the marketing power of Google ads.
Google ads are not aimed at people making impulse purchases. They are aimed at people who want or need a dentist and are looking to find one which best suits them. What ppc Google ads does best is convert people searching for dental treatments into dental patients. So if you're not using Google ads, you're missing out on a whole load of new clients and sales.
Who should my Google ads for dentists be targeted at?
Everyone needs to visit a dentist right? So you could be forgiven for thinking that the people you should be marketing to is everyone! In actual fact, by advertising so broadly, you're wasting your money. Instead, by narrowing down your advert audience to people who are looking for a new dental practice, or a specific dental treatment, you'll have a much higher conversion rate, and spend a lot less money on your advertising.
This is where Google ads come in. Google ads are geared up precisely to do that; to help you narrow your audience and get more value for money. Instead of spending a fortune on converting 1% of the people who see your adverts, why not spend a lot less and convert 50% of the people who see your adverts. These figures are highly achievable with the right Google ad campaign. Google ads aren't just limited to search either. In the right hands, your marketing could harness the power of Google shopping ads, video ads, display ads and even ads in apps!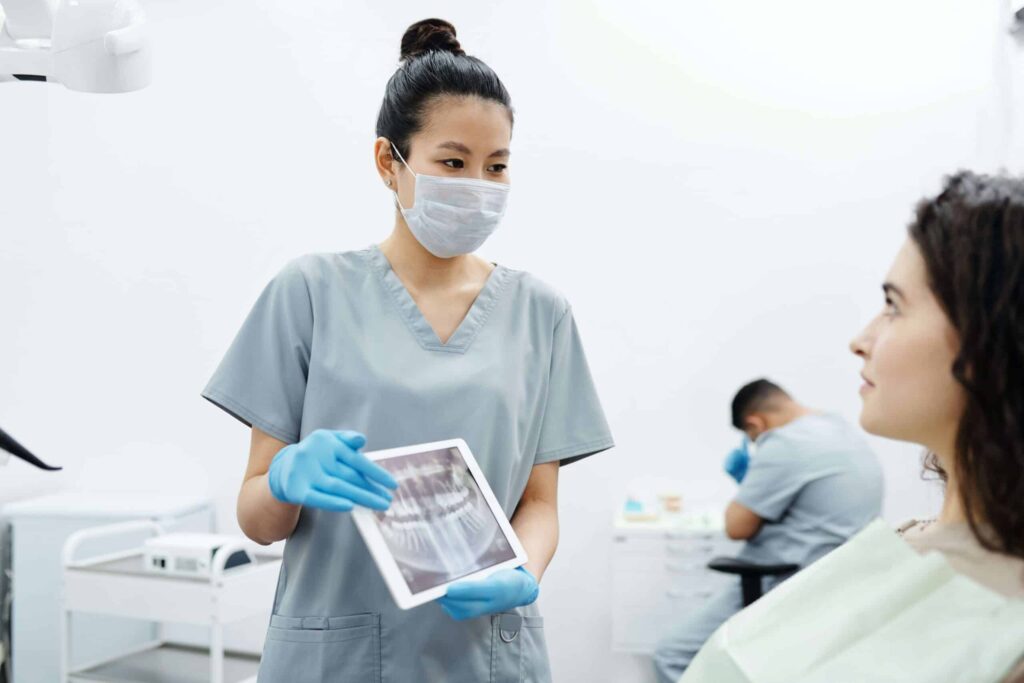 Controlling your dental pay per click campaigns
So you've set aside some marketing budget for ppc and you want to see how effective it is. That's great. But the trap most people then fall into is maintaining their advertising for dentists. You might try a Google dental ads campaign and be successful, or unsuccessful, but what often happens next is that you lose momentum. You'll find you're busy with the new clients you've gained, and fall behind on advertising, potentially missing out on reaching out to other new clients, and the opportunity to grow your business.
That's where a Google ads agency comes in. When a ppc agency gets involved, especially experts in the dental marketing industry like us, they'll ensure that you maintain successful ad campaigns.
Outsourcing your Google ads in this way will not only keep you achieving an impressive ROI for your budget, but also improve your brand awareness. If you're not at the top of Google for your local area and the treatments you offer, you're losing out to your competitors. Fact.
Google search ads in the right hands will put you effortlessly at the top of Google and in a position to take advantage of all the benefits this fiercely effective marketing tool has to offer. Google Ads which aren't limited to just search will simply broaden your marketing scope in an extremely effective way. It's worth exploring Google's marketing potential for its remarketing tool on its own. This clever piece of code will follow potential customers, showing them your ad, as they move across the internet, long after they've put in a search term that's relevant to your business!
If you're not in a position to grow your business, or accept new clients. This may not be ideal for you right now. But as soon as you're ready to become the most popular dental practice in your area, just let us know!