If you're not currently taking advantage of Google ads, your business isn't benefiting from Google's unique ability to help you grow your client base. This is an incredibly powerful and effective marketing tool that you're ignoring. It's a bit like ploughing a field by running up and down it with a trowel, in the hope that the furrows you make are straight enough, instead of using the purpose built tractor parked next to you.
Using Google ppc ads is an established and successful method of gaining customers, and putting yourself ahead of your competitors, so why not let it do the hard work for you? The Google remarketing tool that comes as part of your package, will even follow potential customers, showing them your ppc ad, as they move across the internet. It's a business growth game-changer!
What can google advertising for aesthetic clinics do for your business?
Perhaps you're placing adverts in online publications, and on websites, that you think your potential clients read? Or maybe you're relying solely on social media? To do that is to miss out on those people who only ever use Google to search for something they want to purchase.
Yes, you might have had some success with readers of beauty magazines, who booked an appointment on impulse, but why not also reach out to those who want to compare aesthetic clinics on Google? People who Google aesthetic treatments are unlikely to be doing it out of curiosity. They want to buy. This is why your Google ads need to be in place.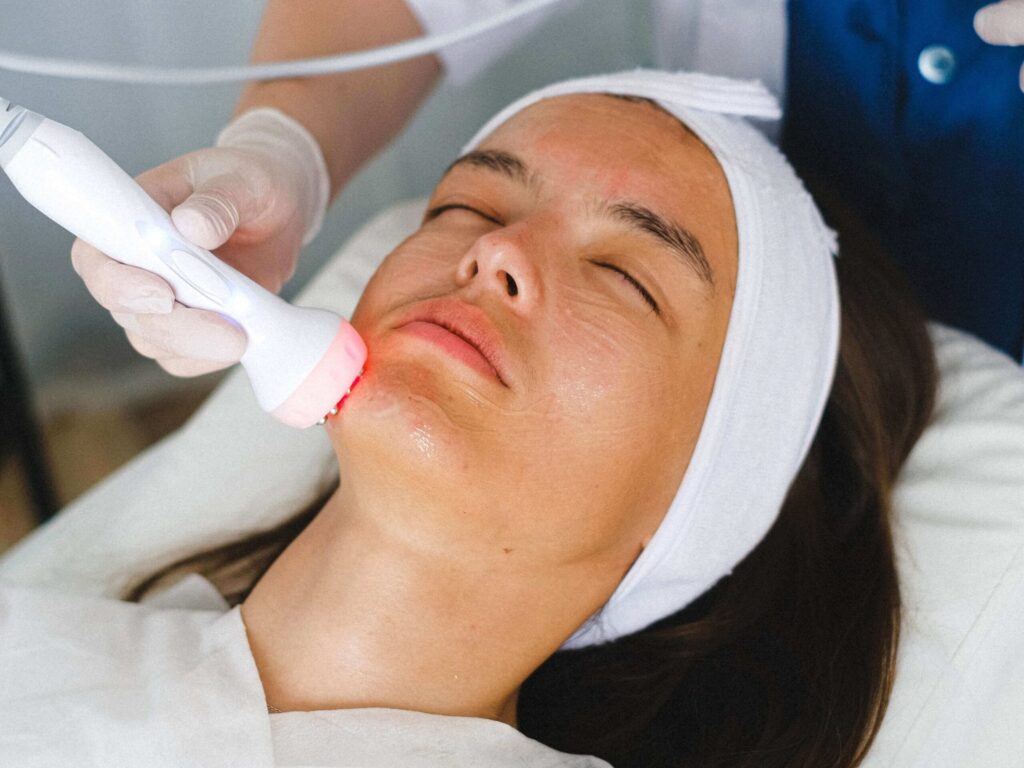 Why pay per click ads should be used even when you have great SEO
This section is for businesses who are already at the top of Google organically for their keyword search terms. (If you're not – you should DEFINITELY be using Google ads!)
Being at the top of page 1 is a great achievement and you're probably getting loads of business from it. It means your ad budget can be reduced – but not eliminated. Your competitors are looking at your listing every day and plotting how to topple you. It's likely to be just a matter of time before they succeed and when that happens, how quickly will you notice? Because whatever that delay is, will cost you clients and money. Don't lose potential clients to competitors, because you didn't realise you dropped off page 1!
It's a lot easier to persuade a client to give your aesthetic clinic a try when you're the authority at the top, but much harder when they've already had a satisfactory treatment with a competitor. Google ads is an important back-up that ensures you don't lose out to local competitors, should you slip down the Google rankings.
Let us help you place your aesthetic ads on Google
Two of the biggest obstacles to creating Google ads for business is the perception that you're going to waste your precious time, and the fact that the ads system for some, can be daunting. Don't let that be the case. Outsource your ppc to a ppc agency, like us. Plus, don't forget – Google ads offer much bigger scope than just their search ads. A good ppc agency will take advantage of Google search, display, shopping, video and apps ads for their client!
With years of experience in placing Google ads that get results for aesthetic clinics, we are a Google ads agency who won't waste your time or your money. Our Google marketing strategy will serve only to increase your brand awareness, assert your industry authority, and ultimately convert people Googling aesthetic treatments into your customers. Get in touch to give us a try.